Improve quality of life of people by providing equitable, fast, reliable, safe, comfortable, efficient & sustainable mobility solutions enabling economic development of NCR.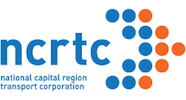 The NCRTC logo comprises of 2 elements – The word mark 'NCRTC' and an arrowhead made up of polka dots that are a symbolic representation of the coming together of Governments, Institutions and People for a common goal of balanced and sustainable regional development through connectivity.
Together, these elements for a fast moving 'arrow' that represents speed and forward movement in the direction of progress and improvement in the quality of life of the citizens.