National Capital Region Transport Corporation (NCRTC) – a joint venture company of Govt of India and States of Delhi, Haryana, Rajasthan and Uttar Pradesh is mandated for implementing the Regional Rapid Transit System (RRTS) project across the National Capital Region, ensuring a balanced and sustainable urban development through better connectivity and access.
Impact on National Capital Region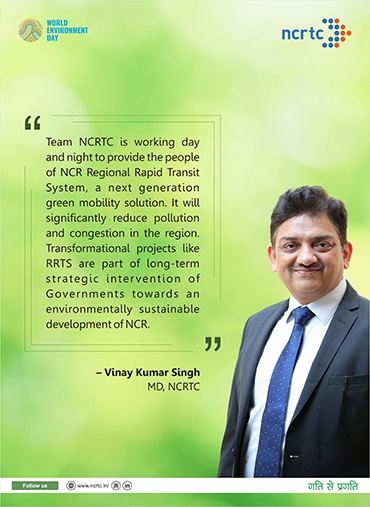 NCRTC promoting 'Make in India' initiative
Implementation status of RRTS Project
Managing Director, Vinay Kumar Singh on RRTS project
DD News and DD India
Shri Singh talks about how the country's first RRTS will usher in a new era of high-speed in urban transport, making it convenient for people to switch from private vehicles, and helping to reduce air-pollution in NCR.
Date : 24.11.2021
The CEO Magazine
The interview brings out his passion for adopting innovative technologies and how he along with his team are working with commitment to bring about a transformational change in regional mobility in NCR with the implementation of RRTS. Read More
Date : 11.11.2021
Urban Mobility India' (UMI) conference 2021
Shri Singh shared his views on how our economy will be driven by a few mega-regions and what role urban mobility will play in driving these engines of growth. He emphasized on the importance of high-speed regional rail systems for providing safe, comfortable, and seamless connectivity.
Date : 29.10.2021