Hon'ble Union Minister for Urban Development, Shri Venkaiah Naidu, today (2nd February, 2017) unveiled the National Capital Region Transport Corporation's (NCRTC) new Logo & Tagline. NCRTC had conducted a contest on MyGov.in portal for design of new logo and coining of Tagline to reflect the vision and objective of Sustainable Urban Development (uni-centric to polycentric approach) through rapid transit. Excellent response with 469 entries was received. Cash awards were given away by the Hon'ble Minister to winners of contest for designing of the Logo & coining the Tagline.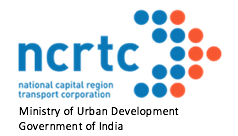 Rs 50,000/- to Shri Mrinal Dasgupta for the new Logo

Rs 25,000/- to Shri Tauseef Ahmad for the Tagline
Following were present at the function:
1. Shri M. Venkaiah Naidu, Hon'ble Minister for Urban Development
2. Shri Durga Shanker Mishra, Additional Secretary (UD)
3. Shri Jhanja Tripathy, Joint Secretary& Finance Advisor (UD)
4. Shri Mukund Kumar Sinha, OSD (UT) and Ex. Officio JS to GoI
5. Shri Vinay Kumar Singh, Managing Director/NCRTC
and other senior officers of Ministry and NCRTC were also present.